Some people use Tamanu oil to help treat various skin conditions, including psoriasis. This essential oil can actually reduce the inflammation caused by the chronic disease.
Tamanu oil is extracted from the nuts of the Calophyllum inophyllum tree, native to French Polynesia and Southeast Asia. In traditional medicine, people have used extracts from this tree to treat skin disorders and promote wound healing. Thus, many believe that Tamanu oil offers benefits to the skin. In fact, this natural ingredient is used in a wide range of cosmetic skin care products.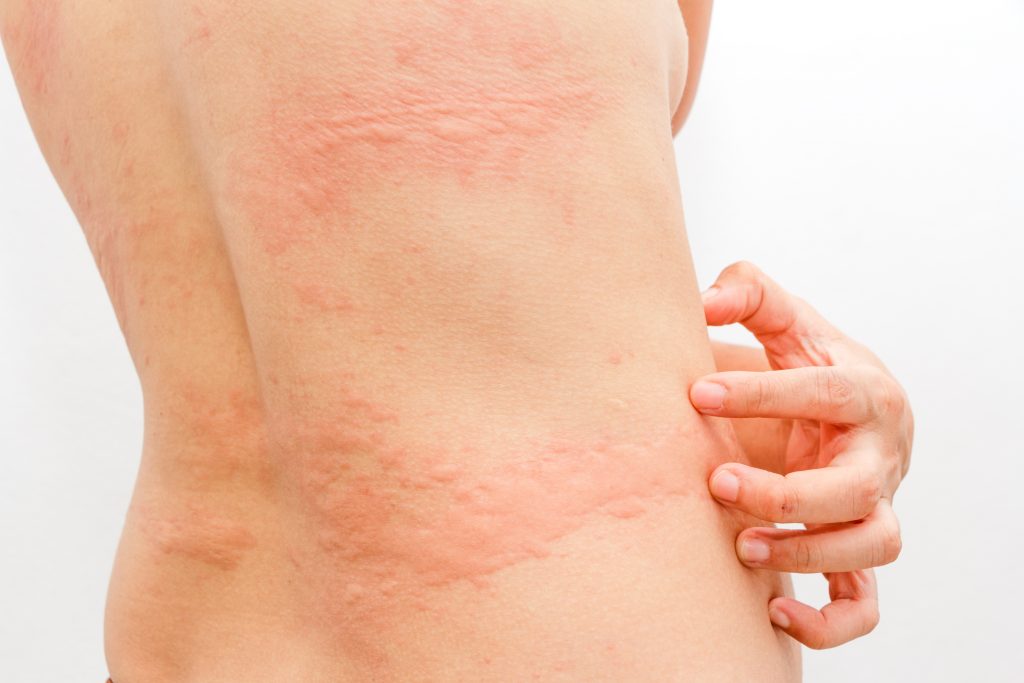 Psoriasis is an inflammatory skin condition. There is no cure, but treatments can reduce inflammation and relieve symptoms. No scientific studies have examined the effects of Tamanu oil on psoriasis symptoms. However, there is evidence that extracts of Calophyllum inophyllum have anti-inflammatory properties. The results of a 2017 study suggest that a compound called calophyllolide is present in this Polynesian essential oil. The anti-inflammatory and healing effects of this compound are established. Also, a 2012 study also showed that extracts from the leaves of Calophyllum inophyllum were able to relieve inflammation in certain cells. Interesting results, but research remains on a small scale. Larger-scale experiments are needed to scientifically validate the therapeutic virtues of Tamanu oil.
How can Tamanu oil be used for psoriasis?
Due to the lack of scientific data in the field, no guidelines on how to use tamanu oil for psoriasis are available. As with most essential oils, Calophyllum inophyllum oil should be mixed with a diluent – such as olive oil – before direct application to the skin. Many over-the-counter skin creams contain Tamanu oil. These products can be used according to the instructions on the packaging. Please note that if a cream or oil irritates a person's skin, the person should avoid using the product.
Insufficient research means that information on the safety of Tamanu oil for people with psoriasis is limited. Competent authorities often report that herbal remedies can cause harmful side effects. These can interact with other medicines. The use of herbal remedies is not recommended for people in the following cases:
During pregnancy
During breastfeeding
Medical conditions, such as diabetes or high blood pressure
Furthermore, herbal remedies are not suitable for infants and children. In some people, Tamanu oil can irritate the skin. Anyone who finds that the application of this essential oil aggravates or spreads inflammation should avoid using the remedy.
Other Uses of Tamanu Oil
Psoriasis is a chronic disease that cannot be eradicated. However, patients can usually manage their symptoms and prevent the disease from affecting their quality of life. Calophyllum inophyllum oil may relieve the symptoms of the condition in some people – likely due to its anti-inflammatory effects.
However, Tamanu oil contains different types of fatty acids as well as antibacterial compounds that may help with skin care. These compounds have led to its use in several skin cosmetics, including creams for :
Skin regeneration
After-sun protection
To soothe irritation
Anti-ageing
As you do not develop any allergies to nuts, the use of Tamanu oil is recommended. In addition to skin care, this natural ingredient is also used for hair care.
Reference : https://www.tamanu.fr